Regular price
Sale price
$0.38 USD
Unit price
per
Sale
Sold out

Introducing the 3/16" Inch Linch Pin, a sturdy and dependable fastening solution designed to securely lock various mechanisms in place. This Linch Pin is engineered with precision and durability in mind, making it an essential tool for a wide array of applications.
Key Features:
Precise Sizing: With a 3/16" diameter, this Linch Pin offers a perfect fit for a variety of fastening needs, providing a balance of strength and usability.

Efficient Locking Mechanism: The Linch Pin's design features a spring-loaded locking mechanism, ensuring a secure and reliable hold for added safety and stability.

Built to Last: Constructed from durable and rust-resistant materials, this Linch Pin is made to withstand the elements and endure heavy use, ensuring a long service life.

Easy to Use: The Linch Pin is designed for quick and effortless installation, allowing for efficient engagement and disengagement of the locking mechanism.

Versatile Applications: Suitable for agricultural, automotive, industrial, and recreational applications, this Linch Pin excels in securing various components such as hitch pins, axles, and machinery parts.
Applications:
Agricultural Equipment: Perfect for securing plow blades, farm implements, and other agricultural machinery components.

Automotive Industry: Ideal for securing hitch balls, trailers, and vehicle attachments.

Industrial Machinery: Used to secure shafts, axles, and other vital parts in heavy-duty machinery.

Recreational Equipment: Suitable for securing accessories on boats, trailers, and other recreational vehicles.

General Maintenance: Valuable for a wide range of DIY projects, repairs, and maintenance tasks that require secure and reliable fastening.
The 3/16" Inch Linch Pin is a dependable and versatile tool, offering strength and security for various fastening applications. Invest in this Linch Pin to ensure the safety, stability, and functionality of your equipment and machinery.
View full details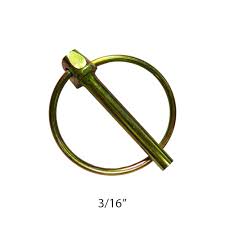 Fast Shipping

Most orders shipped same business day!

Money Back Guarantee

90 day no-questions asked return policy!

Quality Products

Top quality products at the lowest price!