Regular price
Sale price
$3.42 USD
Unit price
per
Sale
Sold out
Introducing the 5/8 x 4-1/4 in. Spade Eye Bolt Kit: Your Trusty Solution for Secure Fastening!
When it comes to securing heavy loads, safety and reliability are paramount. Our 5/8 x 4-1/4 in. Spade Eye Bolt Kit is designed to meet your fastening needs with confidence. This kit provides a dependable and sturdy solution for a variety of applications, ensuring your equipment and cargo remain securely in place.
Key Features:
Heavy-Duty Construction: Crafted from rugged materials, the 5/8 x 4-1/4 in. Spade Eye Bolt is engineered for strength and durability. It can handle the toughest tasks, providing a secure fastening solution for your projects.

Comprehensive Kit: Our kit includes all the necessary components for a hassle-free installation, saving you time and effort. With clear instructions and quality hardware, you'll have this eye bolt in place quickly and securely.

Versatile Application: The 5/8 x 4-1/4 in. Spade Eye Bolt is a versatile solution suitable for numerous applications. Whether you're securing cargo, building structures, or creating a point for attaching cables, this kit is up to the task.

Reliable Fastening: Trust in the sturdy spade design of this eye bolt to securely hold your loads. Its dependable performance reduces the risk of accidents, ensuring both your equipment and personnel are safe.

Easy Installation: Thanks to its user-friendly design, you can easily install this eye bolt without advanced technical skills. It's perfect for DIY enthusiasts and professionals alike.

Multiple Uses: Whether you're working in construction, transportation, or general manufacturing, our Spade Eye Bolt Kit is a versatile and essential tool for your fastening needs.

Peace of Mind: With this kit, you can have confidence in the secure and reliable fastening of your equipment or cargo, reducing the risk of accidents and damage.
Choose the 5/8 x 4-1/4 in. Spade Eye Bolt Kit for your secure fastening needs. It's the sturdy, versatile, and reliable solution you can trust, whether you're securing loads, building structures, or undertaking any other project that requires a dependable anchor point. Get your kit today and ensure your fastening needs are met with confidence and peace of mind!
View full details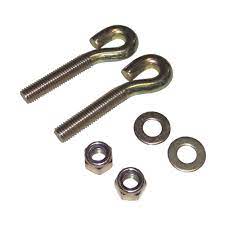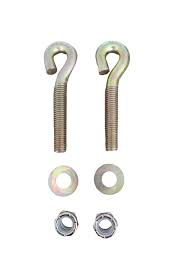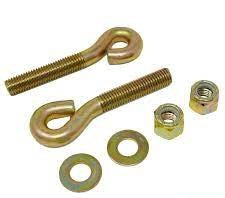 Fast Shipping

Most orders shipped same business day!

Money Back Guarantee

90 day no-questions asked return policy!

Quality Products

Top quality products at the lowest price!