Regular price
Sale price
$13.50 USD
Unit price
per
Sale
Sold out
Introducing the 9ft Tension Plow Cable: Your Robust Solution for Secure Snow Removal!
When the snow starts piling up, having the right equipment to ensure a smooth and efficient snow removal process is crucial. The 9ft Tension Plow Cable is here to provide the strength and reliability you need to tackle the winter's challenges head-on.
Key Features:
Robust and Durable: Crafted from high-quality materials, this 9ft Tension Plow Cable is designed to withstand the harshest winter conditions. It can handle the rigors of heavy-duty snow plowing, ensuring longevity and reliability.

Precise Length: Measuring 9 feet, this plow cable provides you with the perfect length for your snow removal needs. It's long enough to accommodate a variety of snow plow setups, allowing you the flexibility to operate effectively.

Secure Connection: The cable is built to provide a secure and dependable connection between your snow plow and the vehicle, ensuring the plow's efficient operation while reducing the risk of accidents or unexpected disconnections.

Easy Installation: The 9ft Tension Plow Cable comes ready for a hassle-free installation. With clear instructions and user-friendly design, you can have it set up and ready for action without extensive technical knowledge.

Versatile Use: This plow cable is suitable for various snow plowing applications, whether you're a homeowner clearing your driveway or a professional snow removal service. Its versatility makes it an essential addition to your winter equipment.

Increased Efficiency: By ensuring a secure connection and reliable tension, this cable improves the efficiency of your snow plowing operations. You'll save time and effort, allowing you to clear snow more effectively.

Peace of Mind: With the 9ft Tension Plow Cable, you can have confidence in the secure connection and dependable performance of your snow plow. Enjoy a safer and more efficient snow removal experience, even in the most challenging winter conditions.
Upgrade your snow removal equipment with the 9ft Tension Plow Cable and ensure your snow plow remains securely connected and ready for action. Say goodbye to the hassles of unreliable connections and hello to efficient and reliable snow removal. Get your cable today and experience the confidence that comes with a strong and dependable snow plow accessory!
View full details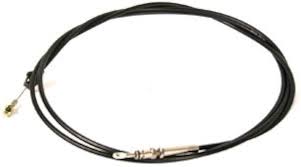 Fast Shipping

Most orders shipped same business day!

Money Back Guarantee

90 day no-questions asked return policy!

Quality Products

Top quality products at the lowest price!