Regular price
Sale price
$9.00 USD
Unit price
per
Sale
Sold out
Unlock Precision Control with the COIL Hydraulic Valve!
Discover the power of precision and efficiency with the COIL Hydraulic Valve, your go-to solution for fluid control in hydraulic systems. Engineered with cutting-edge technology, this valve offers unparalleled performance and reliability for a wide range of industrial applications.
Key Features:
Precision Control: The COIL Hydraulic Valve is designed to deliver precise control over hydraulic fluid flow, pressure, and direction. Whether you're managing heavy machinery, industrial equipment, or other hydraulic systems, this valve empowers you with the accuracy you need for optimal performance.

Robust Construction: Crafted from high-quality materials, the valve is built to withstand the rigors of demanding industrial environments. It's engineered for durability, ensuring a long lifespan and consistent performance under extreme conditions.

Versatile Application: This hydraulic valve is a versatile solution suitable for a variety of industries, including manufacturing, agriculture, construction, and more. Its adaptability makes it an ideal choice for both new installations and equipment upgrades.

Reliable Operation: The COIL Hydraulic Valve boasts a reputation for reliability and trouble-free operation. You can trust it to perform consistently, day in and day out, reducing downtime and maintenance costs.

Wide Range of Models: Our product line offers a diverse selection of models to suit your specific needs. Whether you require proportional control, directional control, or pressure relief, you'll find a valve that meets your exact requirements.

Easy Installation: Installing the COIL Hydraulic Valve is a straightforward process, thanks to user-friendly design and comprehensive installation instructions. It minimizes downtime and ensures a hassle-free integration into your hydraulic system.

Industry Standards: Our hydraulic valves adhere to industry standards, providing you with peace of mind that you're working with a trusted and proven solution that meets or exceeds regulatory requirements.
Enhance your hydraulic systems with the COIL Hydraulic Valve and experience the benefits of precision control, reliability, and efficiency. Say goodbye to performance uncertainties and hello to a future of smooth, optimized operations. Elevate your industrial processes with a hydraulic valve that delivers, every time. Get your COIL Hydraulic Valve today and take control of your fluid systems like never before!
View full details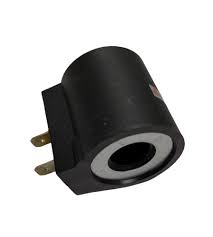 Fast Shipping

Most orders shipped same business day!

Money Back Guarantee

90 day no-questions asked return policy!

Quality Products

Top quality products at the lowest price!