Regular price
Sale price
$22.50 USD
Unit price
per
Sale
Sold out
Introducing the Hydraulic Quick Coupler Assembly (3/4" NPTF) - Streamlined Connections for Fluid Power Like Never Before!
Product Name: Hydraulic Quick Coupler Assembly Connection Type: 3/4" NPTF (National Pipe Taper Fuel)
Are you tired of struggling with time-consuming and messy hydraulic connections? Say hello to the ultimate solution for quick, efficient, and leak-free coupling with our Hydraulic Quick Coupler Assembly, featuring a 3/4" NPTF connection. This assembly is engineered to transform your hydraulic operations, making them smoother and more reliable than ever before.
Key Features:
Rapid Coupling: Experience the convenience of rapid hydraulic connections with our Quick Coupler Assembly. It's designed to save you precious time by allowing you to effortlessly attach and detach hydraulic components in seconds, making your workflow more efficient.

Leak-Free Design: This assembly boasts a robust and reliable construction, ensuring a tight and leak-free connection every time. Say goodbye to frustrating hydraulic leaks and hello to a cleaner and safer work environment.

Precision Engineering: Crafted with precision, the 3/4" NPTF connection ensures a perfect fit for a wide range of hydraulic systems. You can trust it to deliver consistent and dependable performance, no matter the application.

Durable Build: Built to withstand the demands of hydraulic systems, this coupler assembly is constructed from high-quality materials. It can handle high-pressure conditions and the wear and tear of heavy-duty use, guaranteeing long-lasting reliability.

Easy Operation: Our quick coupler assembly is designed for user-friendly operation. Its intuitive design makes connecting and disconnecting hydraulic hoses and components a breeze, even in challenging work environments.

Versatile Compatibility: Whether you're in the construction, agriculture, or industrial sector, this assembly is adaptable to various hydraulic systems and applications. It's a versatile solution that caters to a wide range of needs.

Quality Assurance: We take pride in the quality of our products. Our Hydraulic Quick Coupler Assembly undergoes rigorous testing and quality control to ensure it meets or exceeds industry standards, providing you with peace of mind and confidence in your hydraulic connections.
Upgrade your hydraulic systems with the Hydraulic Quick Coupler Assembly (3/4" NPTF) and enjoy seamless, leak-free, and efficient fluid power operations. It's the key to unlocking enhanced productivity and reliability in your hydraulic applications.
Whether you're a professional in the field of hydraulics or a DIY enthusiast working on a hydraulic project, this assembly is an essential component for your toolkit. Experience the benefits of precision engineering and quality construction by adding it to your equipment. Order yours today and elevate your hydraulic connections to a whole new level
View full details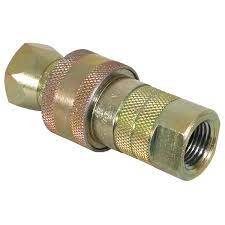 Fast Shipping

Most orders shipped same business day!

Money Back Guarantee

90 day no-questions asked return policy!

Quality Products

Top quality products at the lowest price!