Regular price
Sale price
$22.90 USD
Unit price
per
Sale
Sold out
A "Lift and Angle Valve" is a type of hydraulic valve commonly used in various heavy equipment applications, including snowplows, V-plows, and other hydraulic systems. These valves control the lifting and angling functions of the equipment, allowing operators to manipulate the position of blades, plows, or other hydraulic attachments. Here's a brief product description:
Product Description:
The Lift and Angle Valve is an integral component in hydraulic systems, designed to precisely control the vertical lifting and horizontal angling movements of equipment attachments. This versatile valve ensures seamless and efficient operation, making it an essential part of various heavy machinery applications.
Key Features:
Precise Control: The Lift and Angle Valve offers precise control over the hydraulic functions, enabling operators to raise or lower equipment attachments and angle them as needed. This level of control is essential for tasks such as snowplowing, grading, or material handling.

Durable Construction: Built to withstand the rigors of heavy-duty applications, this valve is constructed with durable materials and components, ensuring longevity and reliability even in demanding environments.

Smooth Operation: The valve's design and construction provide smooth and consistent operation, reducing the risk of jolting or sudden movements during equipment operation. This contributes to enhanced safety and ease of use.

Ease of Integration: Designed for easy integration into hydraulic systems, the Lift and Angle Valve comes with the necessary fittings and clear installation instructions, simplifying the setup process.

Versatile Application: While commonly used in snowplows and V-plow systems, this valve is suitable for a wide range of heavy equipment, including loaders, dozers, and other machinery where precise hydraulic control is needed.
Ensure optimal control and performance of your heavy equipment attachments with the reliable and efficient Lift and Angle Valve. Whether you're managing snow removal, landscaping, or other heavy-duty tasks, this valve is an essential component for your hydraulic system, allowing you to accomplish your work with precision and ease. Invest in this crucial hydraulic component for your equipment today.
View full details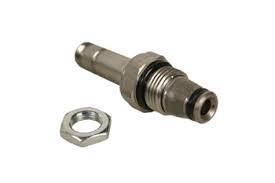 Fast Shipping

Most orders shipped same business day!

Money Back Guarantee

90 day no-questions asked return policy!

Quality Products

Top quality products at the lowest price!