Regular price
Sale price
$27.86 USD
Unit price
per
Sale
Sold out
Upgrade your pressure monitoring system with our Liquid Filled Gauges featuring a stem mount. These gauges are designed to provide accurate and reliable pressure measurements in various applications. The liquid filling enhances durability and vibration resistance, while the stem mount allows for secure and convenient installation.
Key Features:
Accurate Pressure Measurement: Our Liquid Filled Gauges are engineered to provide precise and consistent pressure readings, allowing for effective monitoring of pressure levels in your system.

Durable Liquid Filling: The liquid filling inside the gauge ensures enhanced durability by dampening vibration and minimizing internal component wear, resulting in a longer service life.

Stem Mount for Secure Installation: The stem mount design allows for secure and stable installation of the gauge in your equipment, ensuring accurate readings and ease of use.

Versatile Applications: Suitable for a wide range of applications, including hydraulic systems, air compressors, water pumps, and more, these gauges are versatile and can adapt to various pressure monitoring needs.

Clear and Readable Display: The gauge features a clear display, making it easy to read and interpret pressure values, even in challenging work environments.

Robust Construction: Built with high-quality materials, these gauges are designed to withstand harsh conditions and deliver consistent performance over an extended period.
Upgrade your pressure monitoring system with our Liquid Filled Gauges featuring a stem mount. Enjoy accurate pressure measurements, enhanced durability, and easy installation, ensuring optimal performance and safety in your applications. Keep your pressure levels in check with this essential monitoring tool.
View full details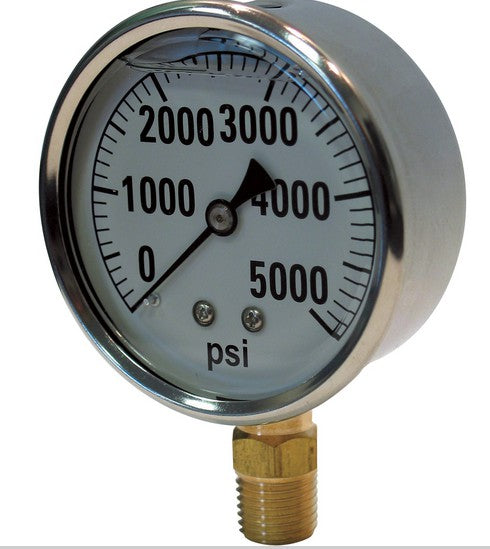 Fast Shipping

Most orders shipped same business day!

Money Back Guarantee

90 day no-questions asked return policy!

Quality Products

Top quality products at the lowest price!